As a Climate Justice Ambassador, there are many ways to spread our message. The most important one: giving speeches! By explaining to adults and other children how important it is to plant trees, we find supporters. And we need them because only if we all work together, we can avert the climate crisis.
On this page, you will find many ideas and documents that will help you to plan different actions.
If you have any questions, you can always contact us:
event@plant-for-the-planet.org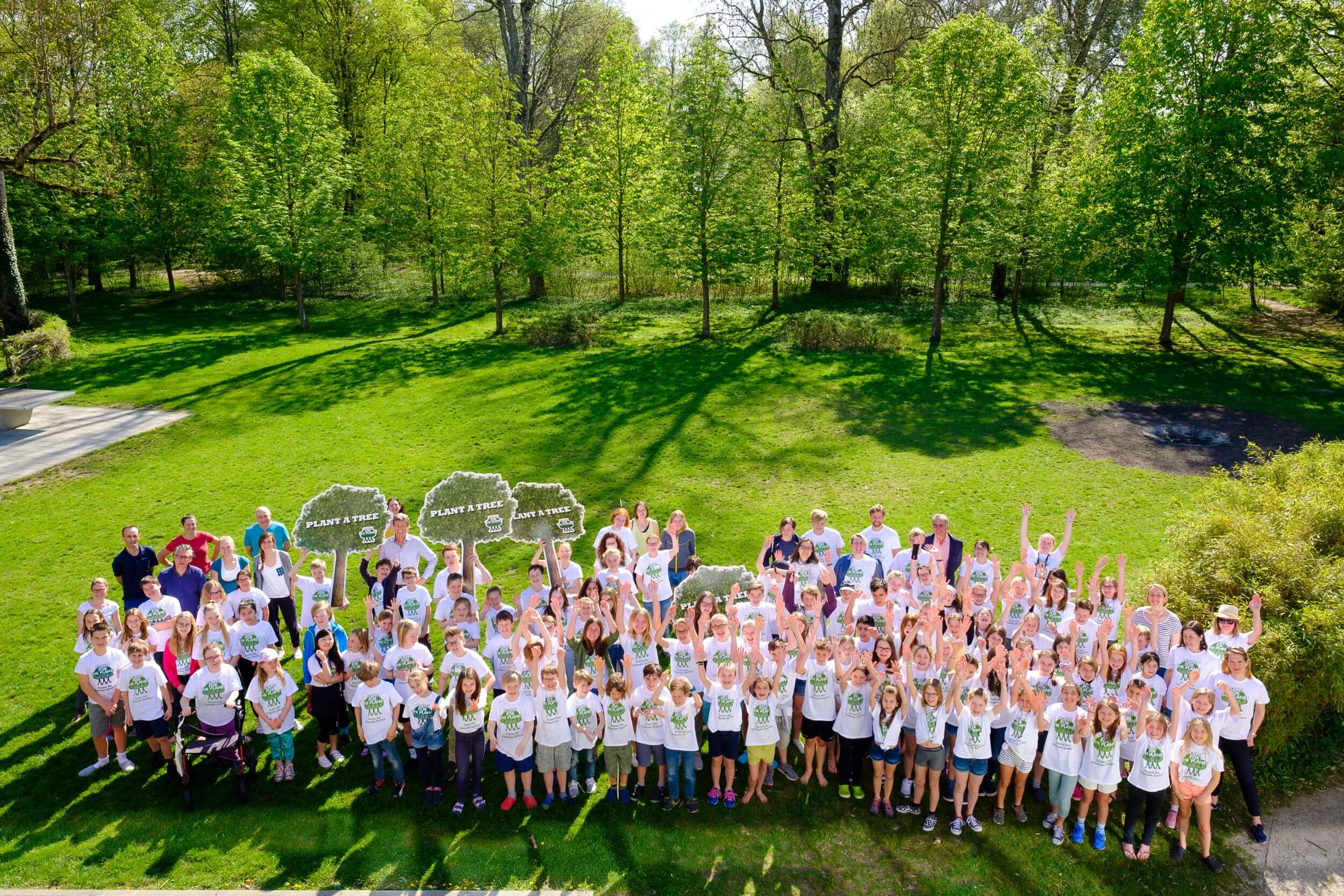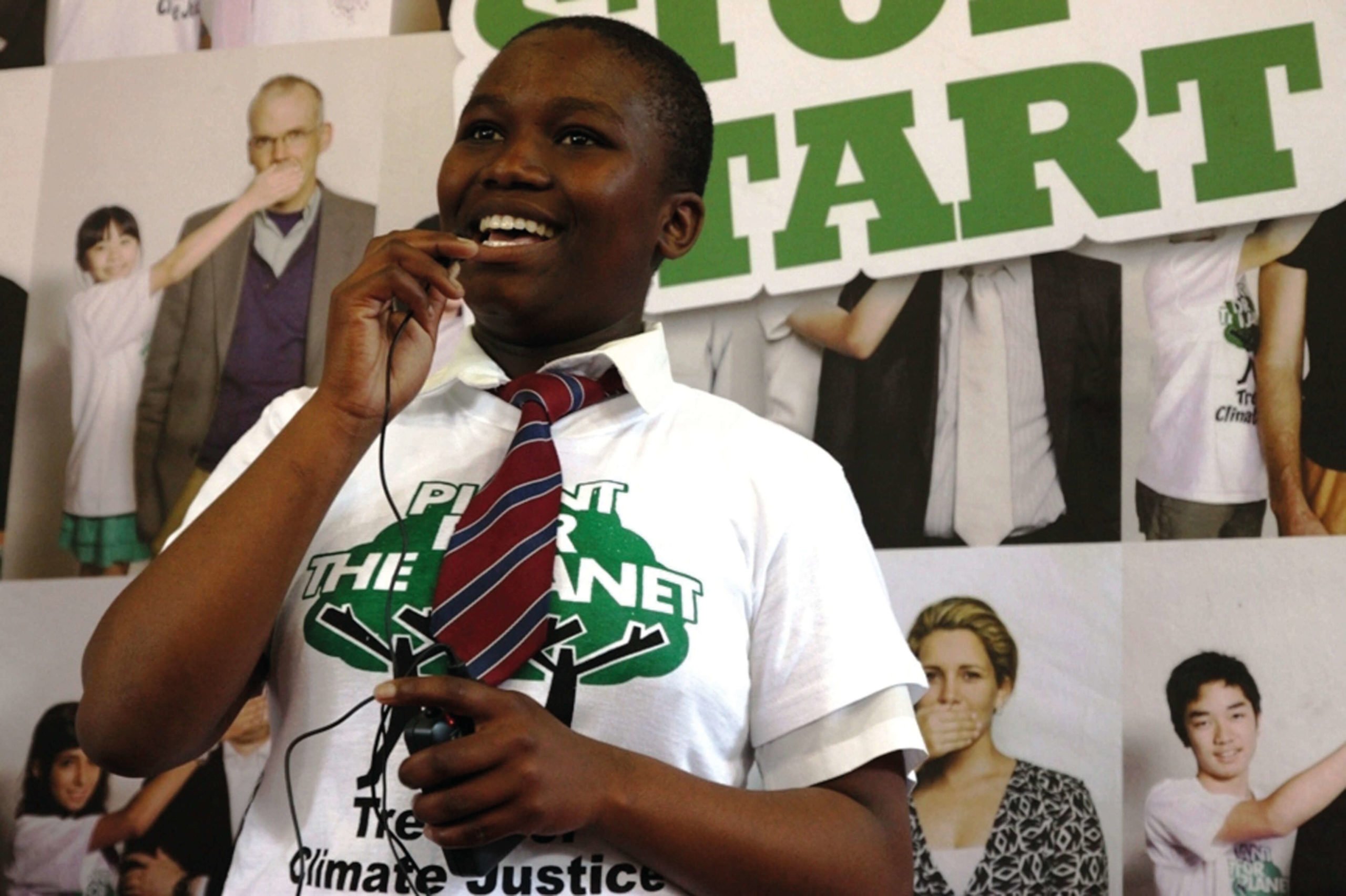 Speeches are our biggest lever to motivate other people to participate. Whether it's at school, at an event in your town, or at your parents' company, explain to your audience why you care about your future and why planting trees is so important. Download the presentation and start practising right away.
Tip: The most important parts of a presentation are the introduction and the conclusion. Think about these parts very carefully and formulate a so-called call to action - your call to the audience to do something after your presentation (planting trees!).
Find out how to organise a speaking opportunity and how to prepare your talk perfectly in the guide "My perfect lecture".
Would you like to see more presentations by Climate Justice Ambassadors? Then check our YouTube channel: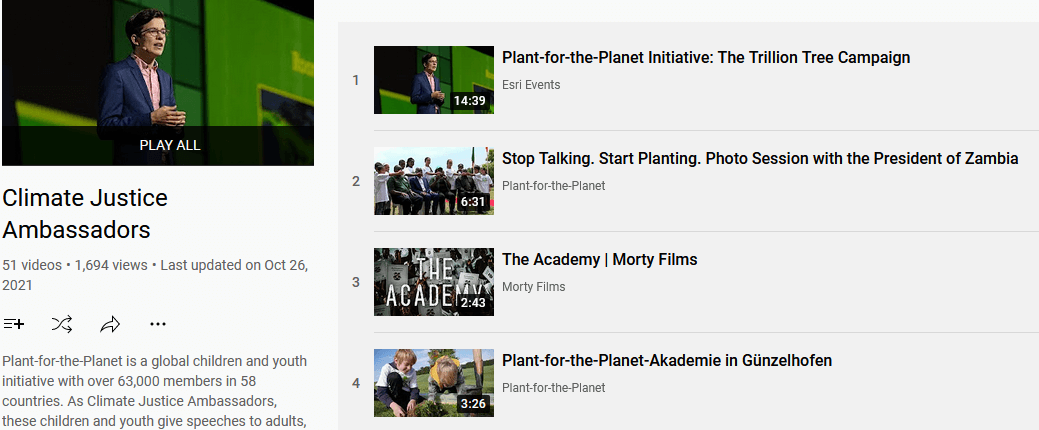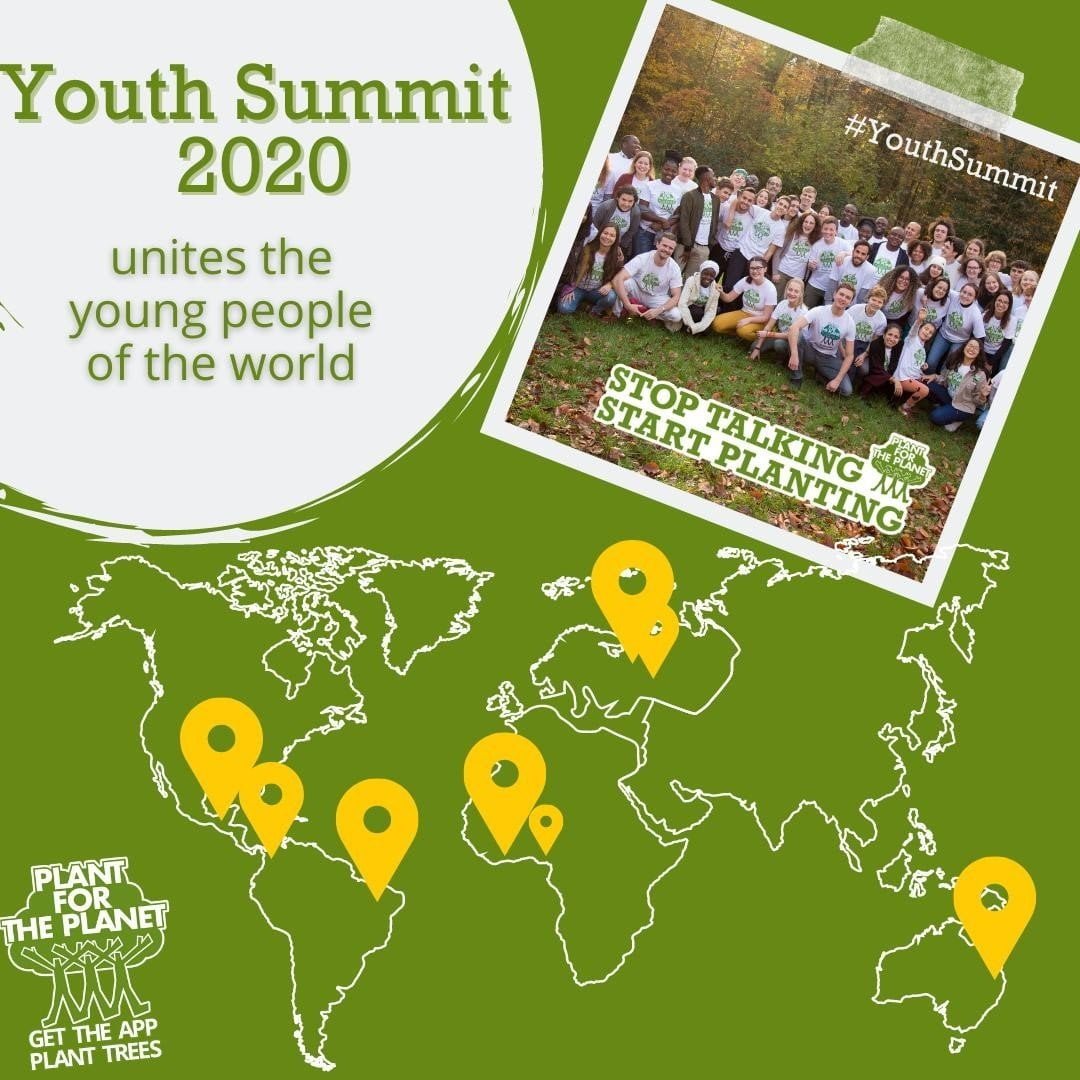 Would you like to meet Climate Justice Ambassadors from all over the world? Then our Youth Summit Talks are the perfect format for you!
Once a month, we meet online via Zoom and invite well-known international speakers to present exciting new information on their topics. The main focus is on global reforestation: what is the UN Decade on Restoration all about, how can global reforestation be financed, and when is reforestation sustainable?
You can discuss these and similar questions with our experts.
Upcoming dates will be posted on our blog.
Organise your own planting action!
Planting a tree is not difficult. But for it to survive, it is crucial to choose the right location, plant at the right time and take care of the tree afterwards. Therefore, the easiest way is to consult an expert who will give you helpful tips and professionally accompany your planting action. Find out what to keep in mind when organising a planting event in our tree planting guide!
Organise a tree planting action
Tip: If you would like to plant your tree as a sign of climate justice, you should do it with publicity and let others know about it. Invite local celebrities, your mayor, other dedicated children and youth and the local press. This is how we spread our message!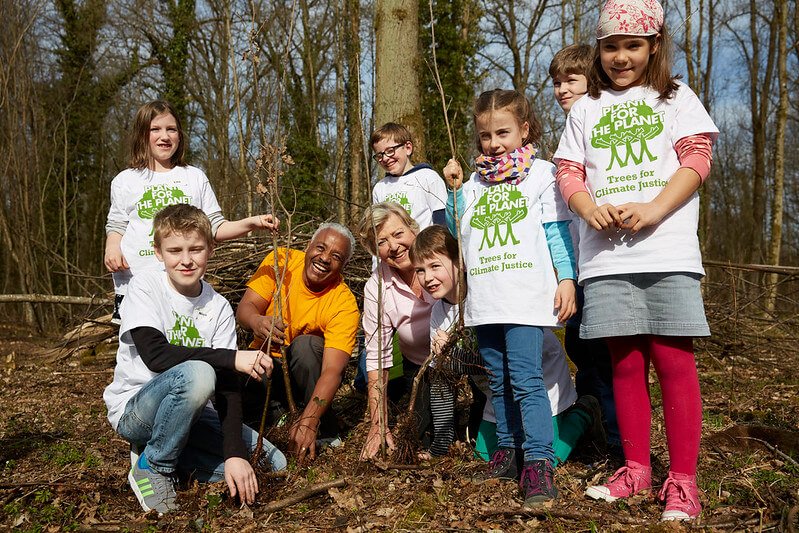 Rainforest on the windowsill
Organizing a whole tree planting event is too much for you right now, but you would like to make something at home? How about creating your own little rainforest? In our guide we explain how you can easily create your own biosphere.
Build your own rainforest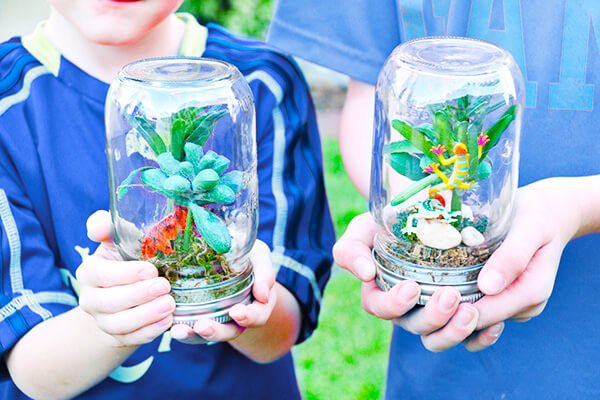 Plant 10 trees in your garden, your school or your neighbourhood and register them in your own tree counter.
Take your own picture with a leaf in front of your mouth and share it. Encourage 10 friends to be part of the "Stop talking. Start planting." campaign.
On the next occasions, let it be Christmas or a birthday, inspire 10 adults to gift trees instead of normal presents. Just pick your favourite planting project on our platform and click the "My donation is dedicated to someone"
The most important thing is always: spread our message and motivate others to participate!
A Run4Trees is a sponsored run focusing on our climate! Whether it takes place at your school or your sports club, for every round you and your friends or classmates run, trees are donated. So convince your family and local businesses to support you and run as many rounds as you can to donate as many trees as possible.
You need inspiration? Then take a look at Kate's experience report. She planted over 8,000 trees with her Run4Trees at her school!
Kate's Experience Report (Blog)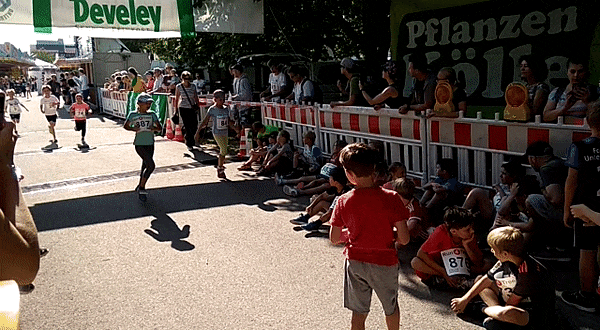 We want politicians to listen to us!
Because politicians must set the framework for a climate policy that will allow us to limit the temperature increase to a maximum of plus 2°C. This includes that particularly companies should compensate for their CO₂ emissions. In order for them to do that, the politicians have to tell them to do it.
Get your local politicians to take the climate into account in all their decisions. The easiest way is to ask your mayor for a personal meeting. How to do this and how to best prepare for it is explained in our Mayor's Guide.
Also, ask your parents, aunts and uncles whether the company they work for is already carbon neutral. If not, then it's about time! Any company that has realised how important it is to take action can contact
partner@plant-for-the-planet.org
.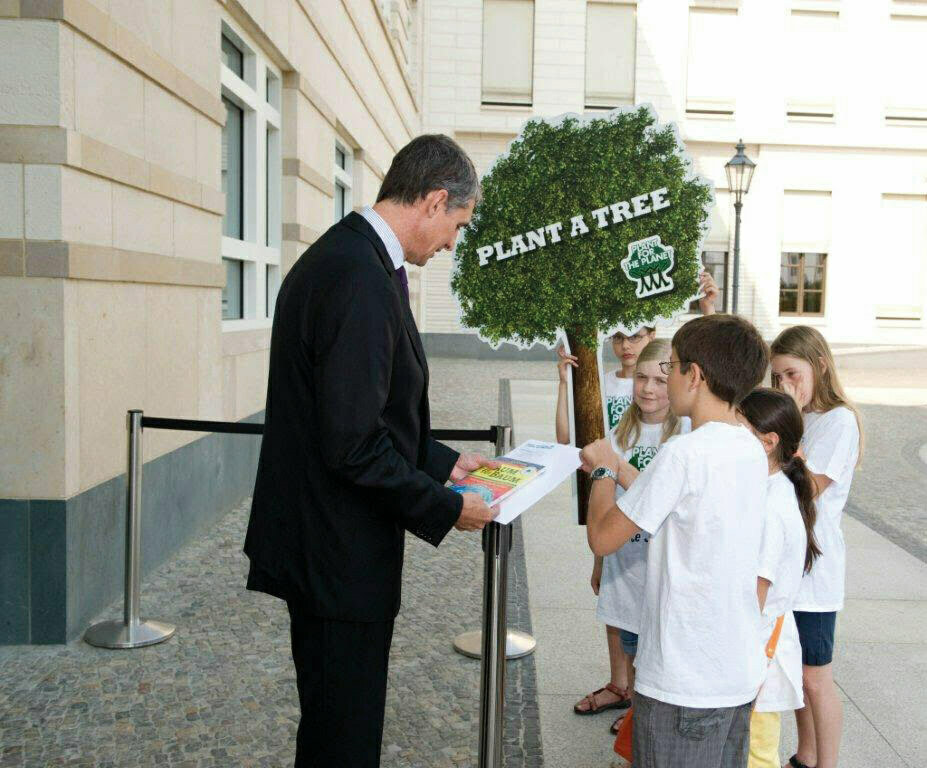 Join our Stop talking. Start Planting. campaign
Surely you already know about our Stop talking. Start planting campaign? With it, we want to create a lot of attention for tree planting worldwide. For it to be successful, as many people as possible need to join in. And that includes you, of course! Simply join in by holding a leaf to your mouth, taking a photo of it and sharing it with your friends and family. If you like, write to your favorite star or a celebrity from your city and ask them if they would like to be part of the campaign as well. When famous people participate, they reach a large number of people and help us to plant many trees.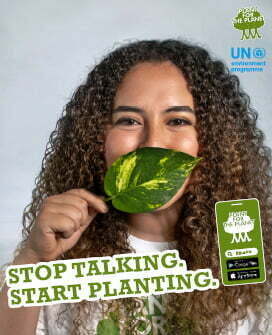 To be heard, we have to be loud! Climate protests have developed all over the world in recent years. Be a part of it and be loud for your future! Search for climate protests online and join others to work together for a fairer, greener world. 
There are no climate protests taking place near you? Then organise your own. Ask friends, school mates and mobilise just everyone you know. Make posters come up with slogans that you can shout and think about when and where your demonstration could take place. Then you can get started. Together you can, for example, move from the marketplace to the town hall and tell your wishes and demands to everyone along the way. 
Don't forget to inform your local media and ask them to spread your invitation to join. The more you are, the more people will hear you and eventually take action.